Belly dancing
I run friendly, fun, weekly belly dancing classes in Trowbridge and beginners are always welcome.  I also offer belly dancing experiences that are perfect for celebrating special occasions, birthdays, hen dos or Christmas parties.
Contact me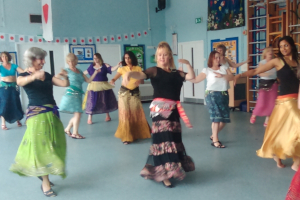 , BBelly dancing classes
I run a friendly belly dancing class that is suitable for beginners.  All you need to bring is yourself and comfortable clothes.
Tuesdays @7.30pm at The Grove School, Trowbridge, BA14 0JG
"I have been dancing with Wafaa for about 15 years. Belly dancing has given me a group of friends that are so supportive and kind and given me confidence in my body I would never have had.
Our group has ladies of all ages, sizes and shapes. Belly dancing helped my posture, balance and flexibility."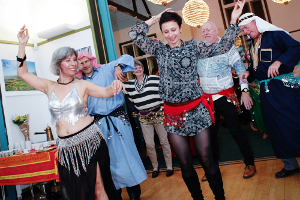 Parties and celebrations
Celebrate in style by belly dancing and/or with your friends and family.  My belly dancing experiences are perfect for birthdays, hen parties, Christmas celebrations, special anniversaries and work Christmas parties.
"Wafaa came to the house of a friend celebrating her daughter's birthday. She brought us all amazing food and taught us to belly dance. So much laughter and shimmying. Thank you for the entertainment, the yummy food and so much fun."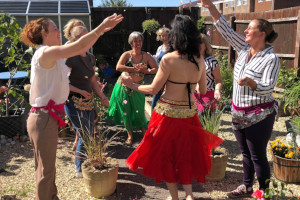 Hen parties
Are you looking for an unusual hen party?  Create your perfect hen party celebration with belly dancing and/or cooking.
"Wow, What can I say? Wafaa is amazing. She came to my daughter's hen party to cook for us her amazing food. While the food was cooking she gave all the girls a belly dance class. She dressed my daughter up before bringing her down to the rest of the hens where we showered her in rose petals. It was a totally amazing evening. The food was delicious and Wafaa is a lovely lady."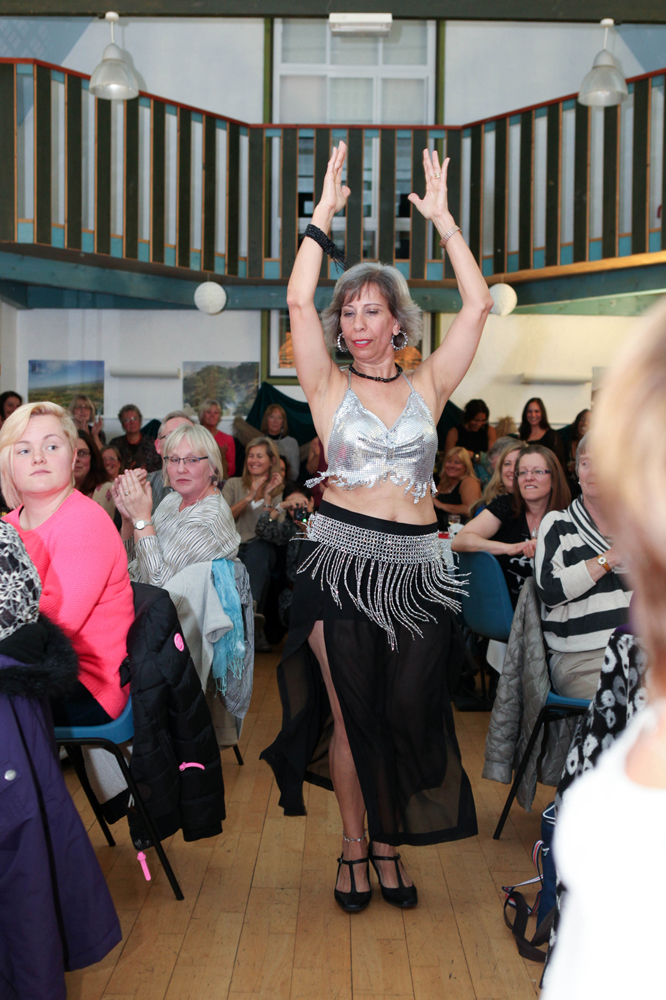 Benefits of belly dancing
Promotes good posture
Enhances graceful body movements
Strengthens the back and abdominal muscles especially the pelvic floor
Helps to trim the waistline
Increases suppleness and flexibility of the whole body, whilst toning thighs, back, arms, shoulders and stomach
Reduces head and back aches as the movement relaxes the muscles
Improves circulation and exercise joints through the movement
Helps to reduce your stress levels and to express difficult emotions in a safe way – thus promoting wellbeing
Gives women more confidence in her body and in herself
Belly dancing
Belly Dancing dates back over 2000 years.  In Arabic countries, the name of this dance is "Raks Charqui" which translates to "Oriental Dance". It's an ancient form of dance created by women to entertain women and to help with menstrual pain and strengthen the muscles before and after giving birth.  In fact, belly dancing has a wide range of health and wellbeing benefits and it is a dance that suits women of all ages, shapes and sizes.