Lebanese Cuisine and Belly Dancing
Welcome to Dancing Flavours.  My name is Wafaa and I am passionate about sharing my love of Lebanese food and dancing with other people.  I run Lebanese cooking classes, belly dancing classes and I host party packages for special occasions in Wiltshire, Bath and Somerset, Bristol and Gloucestershire.  You can make your own unique party package by choosing from a Lebanese cooking experience, belly dancing experience, a combination of both or even hire me as your personal chef.   I can tailor party experiences to suit your requirements so give me a call and we can start planning!
Contact me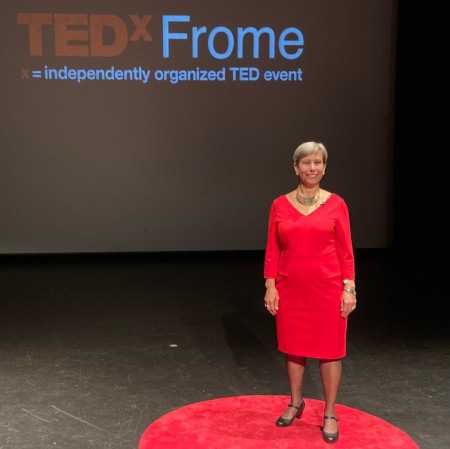 I loved being part of the TEDx Frome speakers.  My theme was "I am because we are" and my talk aimed to bring a new perspective on food.  Thank you to everyone who came to support me; the feedback I received was truly heartwarming:
"It was an epic speech.  It had emotion, it created laughter and your storytelling and message created a brilliant picture in the mind of the audience."
What I Offer
Food and dancing is at the heart of what I do –  I offer Lebanese cooking and belly dancing classes, party packages, catering and takeaways.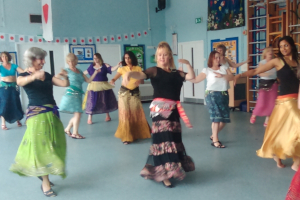 Belly dancing classes
I run a friendly belly dancing class in Trowbridge which is suitable for beginners.  Belly dancing is a fun way to relax and keep fit and it's perfect for people of all ages and abilities.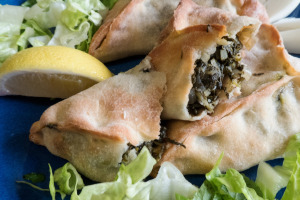 Takeaways
My set menu takeaway service is available on Wednesday, Friday and Saturday nights. I also offer custom takeaway orders for special occasions like birthday celebrations and hen parties.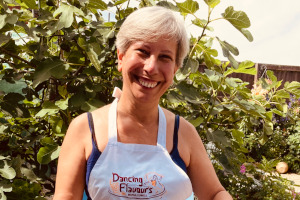 Talks
If your community group would like to find out more about belly dancing, Lebanese food and Lebanon, give me a call to book me for a talk and/or demonstration session.
Creating memorable celebrations
Give me a call if you would like to chat about your ideas for your celebration
Hen party
Wafaa came to the first evening of my hen do to cook us some beautiful food and teach us a bit about Lebanese culture.  Wafaa is such a lovely person, she made us feel comfortable instantly and made it such a fun experience.  The food was absolutely amazing and Wafaa showed us some belly dancing moves at the end.  I can't recommend Dancing Flavours enough for any event – Wafaa is simply amazing.  Thanks so much!  
Work Christmas party
I recently organised an evening cookalong with Wafaa for my remote team working from home.  It was a fantastic way to bring everyone together in a non-work environment…Wafaa regaled the team with stories of Lebanon and Lebanese culture…I cannot recommend this format enough – great fun, perfect host, wonderful evening had by all.  
Duncan – Work cookalong
Cooking class
Did a cook along with Wafaa last night in in and what a fab time! Cooked some amazing Lebanese dishes which were just delicious and had some good fun, and a bottle of wine with great company. Wafaa really knows her food and teaches you along the way too! Will definitely do another cookalong.
Cara – Cookalong